Designed for virtual, hybrid, and physical classrooms, Altium Education is a free online curriculum introducing the fundamentals of printed circuit board (PCB) design and ECAD software tools being used to create the next generation of innovations.  
By the end of the course, students will gain enough knowledge to design simple PCBs and be prepared to advance to industry-level circuit board design and manufacturing courses.

ALTIUM EDUCATION CURRICULUM
Designed by Educators for Flexibility

Our modular curriculum is designed to support your course schedule.



Assign the entire curriculum for a full overview of PCB design.


Altium Education's Free Online Electronics Design Software and Curriculum Includes:
Introduction to the fundamentals of Printed Circuit Board Design
Value of Schematics, Libraries, and Simulation
Overview of Routing and Basic Signal Integrity
Integration of Design to Manufacturing Processes
Tutorial Project for Hands on Learning
Currently Being Used to Support these College Level Courses:
Robotics Systems Design
Fundamentals of Electrical Engineering
Power Electronics
Alternative Energy
Microwave Electronics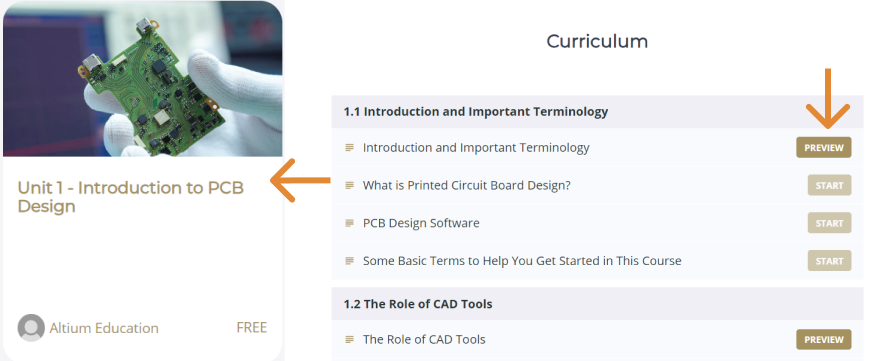 Review the course curriculum and preview lessons by clicking each unit
Altium 365 Classroom Integration
Altium Education endeavors to support Engineering departments at colleges and universities teaching courses in electronic design and engineering. These videos provide best practices for educators and their students on how to utilize A365 as a cloud-based, collaborative learning platform for electronics design.